When we moved to this house a little over 8 years ago there were tons of wild blackcaps (ie. wild black raspberries, wild blackberries) Each year has been an on or off year, depending on what I'm not quite sure. Last spring our landlord cut down a bunch of trees for us since they have started blocking the sun. He took down a couple nastier cedars out back and in doing so knocked a lot of our blackcap patch out. They grew back plus some, but no berries. Since berries like these grow on 2nd year canes, we have an enormous crop this year!! The picking has never been so good!
We pick about 2 pints to 2-3 quarts a day depending on what's ripe and how horrible the mosquitoes are biting that day! See below!
In the last couple years Ball has started making their pectin and putting it into containers instead of the boxes. Well I prefer the boxes, so we bought up all of them we could find two years ago and I'm still using them. Plus a few years before that they changed some of the recipes! Why?! I can't understand this, the ones they had worked great. It's jam/jelly, processing times don't change. I didn't like how the new recipes tasted and looked all over online to find the old ones and couldn't. Then one day I cleaned out my bag and found an old sheet of recipes from the box! I always had one on me so I'd know how many quarts of fruit to buy when I was out. I had it laminated to keep it since it's such thin crappy paper. But now I can use the older ones I prefer, like for grape. But sadly the hot pepper one I liked isn't on this one. Oh well, at least I got the grape and others I prefer! Also if anyone from Ball is reading this, please bring back the boxes!!!!!!!!! I'm not sure what to do when I run out!? The new containers require the new recipes, and also cost a lot more money per batch! PLEASE bring them back!
Now I use the blackberry recipe for these not the raspberry. If you want the old one here you go. Not sure if the new one has changed or not?
3 quarts of berries, crush one layer at a time with a potato masher in a large stock pot (meaning large and tall if you have one it may not like much but it boils up pretty good!) and simmer for 10 minutes covered. Use a jelly bag and strain them, it takes a long time to do this and I get impatient, they say squeezing the bag causes cloudy jelly. It's never happened to me. Squeeze away, but you'll have purple hands for a day or so! Measure out 3 1/2 cups of the juice and pour into that same stock pot, add the box of pectin, 2 Tablespoons of lemon juice. Stir constantly bringing it to a hard boil that you can't stir down. Add 5 cups of sugar and keep stirring until it's a hard boil again. Boil for 1 minute. Remove from heat and ladle into sterilized 8oz jars. (I put them in the water bath pot and bring it to a boil while I cook the jelly.) Cover the jars with the lids and rings and boil in a water bath for 10 minutes, with the water covering the jars by at least an inch. Remove and place on a towel, then allow to cool for 24 hours and check the seals. They also say not to store the jars with the lids on them, but I leave them on. I've never lost a seal yet.
The one of me is gross, sorry, but no one believes me when I tell them how bad they can get. The day we took these shots I was talking with our neighbor for about 15-20 minutes. When we got in Jeremy stopped counting at 48 bites as he was covering me in calamine lotion, he got 4 the neighbor got none. sigh. I'm going to die of the plague by a mosquito bite. I just know it.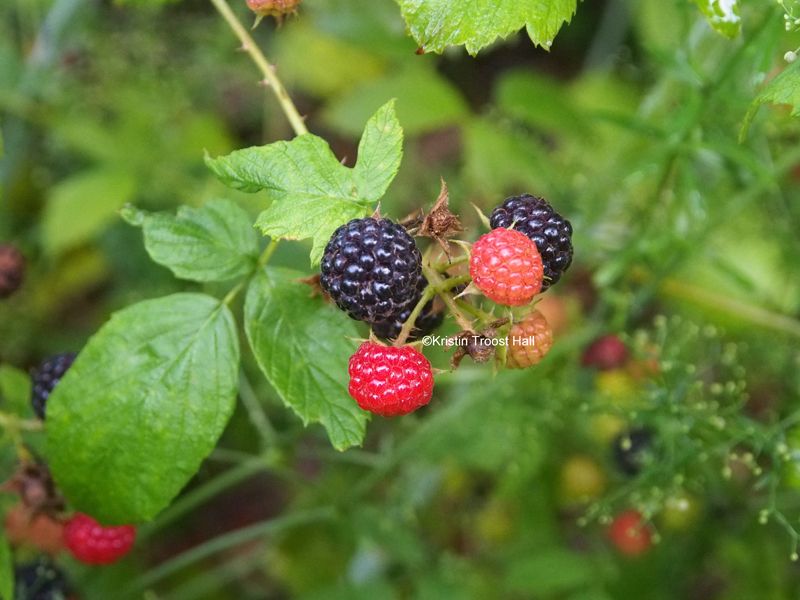 one of our patches this year
a days picking, notice the bottle of calamine behind it!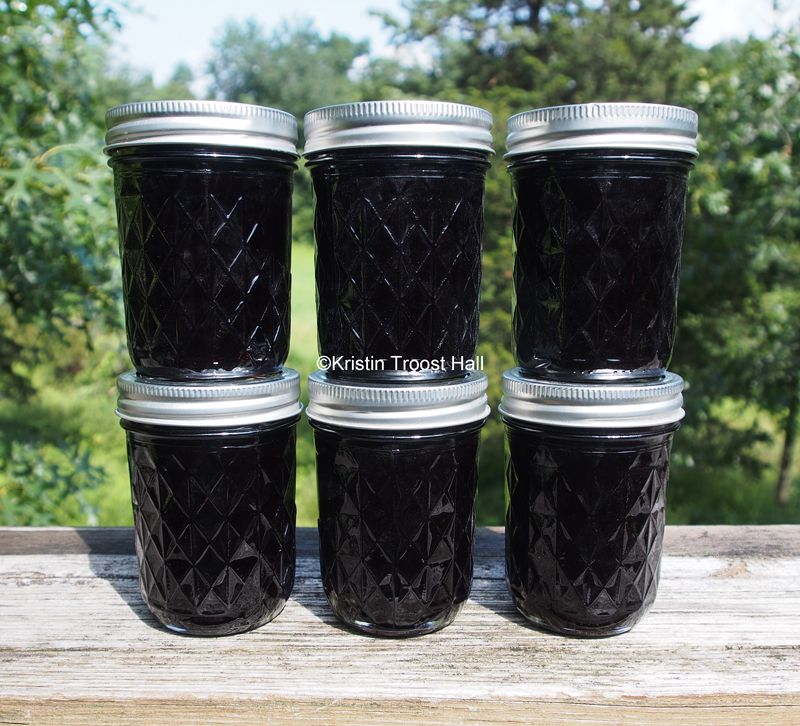 the finished product!
Some other wonderful stuff you can make with wild blackcaps!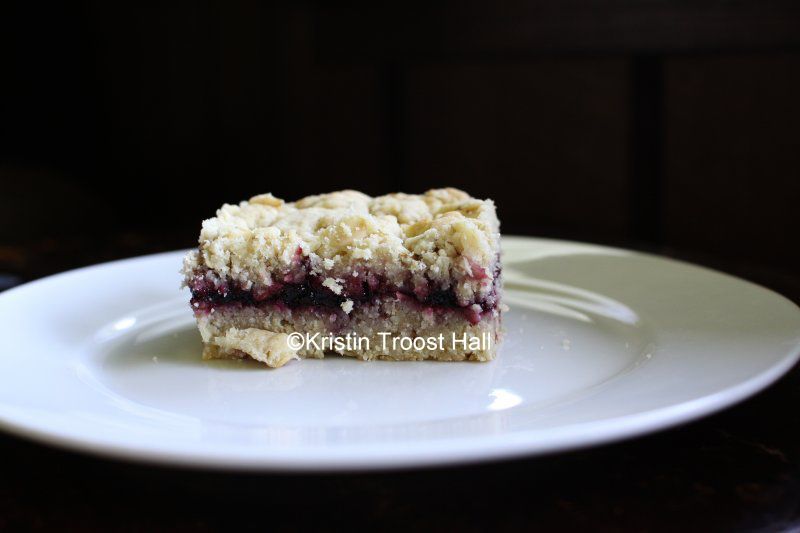 bars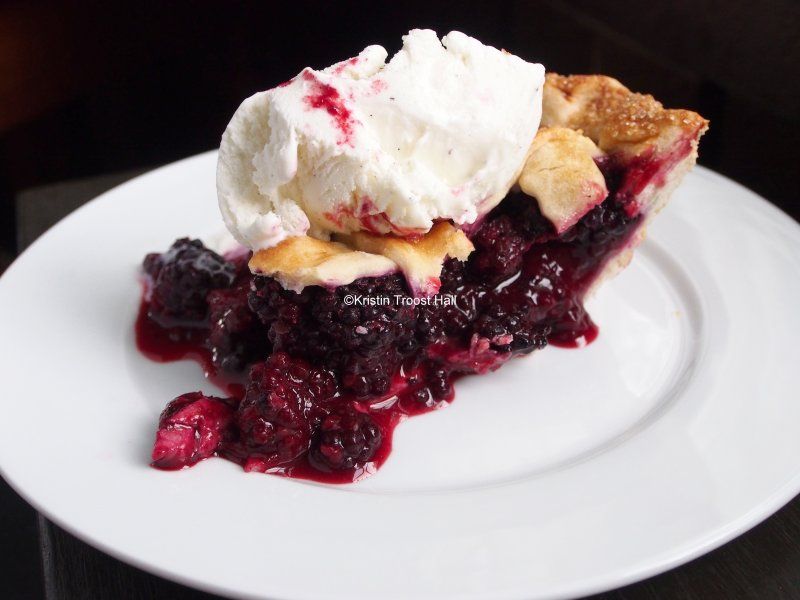 pie!
And forewarning, these bug bites are horrible!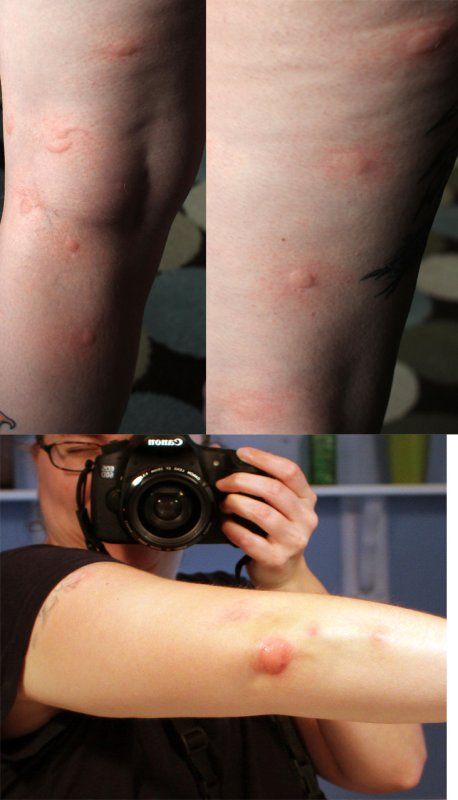 see what I mean?! the other day I had one on my forehead that was the size of a $.50 piece! That one on my elbow is one bite, look how huge it is!!!